EFTOP EF-15 Lithium Trifluoromethanesulfonate (Lithium Triflate)
INTRODUCTION
EF-15, produced through our originally developed process, is suitable for applications which require high purity. It is highly soluble in water and organic solvents, and shows excellent ion conductivity.
EXAMPLE OF USE
Additives for lithium ion batteries
Antistatic agents for resins

FOR PRODUCTS
EFTOP EF-15
Chemical name: Lithium trifluoromethanesulfonate (Lithium Triflate)
Chemial formula: CF3SO3Li
CAS No.: 33454-82-9
Molecular weight: 156.01
PHYSICAL AND CHEMICAL PROPERTIES
Appearance :White powder
Melting point: 423°C
PACKAGING
Aluminum laminated bag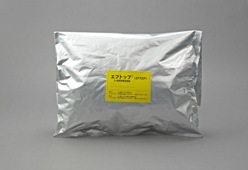 Features
●Trifluoromethanesulfonate salts are widely used as additives or their raw materials.
●EF-15 provides stable conductivity as an anti-static agent.
●EF-15 is highly soluble in water or organic solvents.
●EF-15 can be kneaded into most of resins, since it has 400°C or higher thermal stability.
Product information
Product name
Chemical name
Appearance
Melting point
pH
Solubility
Water
Ethyl acetate
EF-15
Lithium trifluoromethanesulfonate
White powder
423°C
5-7
Easily soluble
Easily soluble
Antistatic properties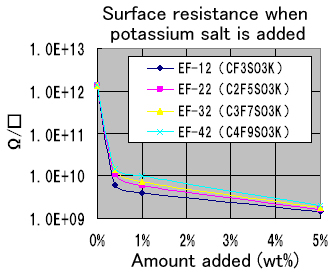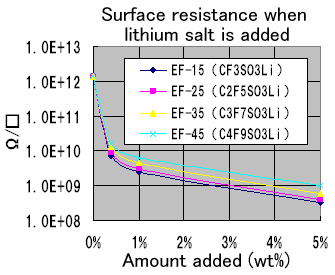 Thermogravimetric analysis