EFTOP EF-42 Potassium Nonafluorobutanesulfonate
INTRODUCTION
EF-42 is excellent flame retardant for polycarbonate resins which require transparency.
It is less hygroscopic and easy to handle.
EXAMPLE OF USE
Flame retardant for polycarbonate resins
Raw materials for photo-acid-generators(PAG)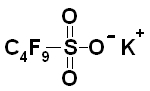 FOR PRODUCTS
EFTOP EF-42
Chemical name: Potassium Nonafluorobutanesulfonate
Chemical formula: C4F9SO3K
CAS No.: 29420-49-3
Molecular weight: 338.18
PHYSICAL AND CHEMICAL PROPERTIES
Appearance: White powder
Melting point: 271°C
PACKAGING
Polyethylene bottle
Polyethylene bag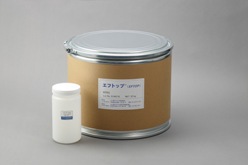 Examples of application
EF-42 has fewer impurities and can stably exert good performance.
EF-42 is widely used as a flame retardant additive for polycarbonate.
EF-42 provides stable conductivity as an anti-static agent.
EF-42 can be kneaded into most of resins, since it has 400°C or higher thermal stability.
EF-42 is widely used as the anion part of such as photo acid generating agents.
Product information
Product name
Chemical name
Appearance
Solubility
Water
Ethyl acetate
EF-42
Potassium Nonafluorobutanesulfonate
White powder
Soluble
Soluble
Examples of application
Flame retardant polycarbonate which added EF-42
Thermogravimetric analysis